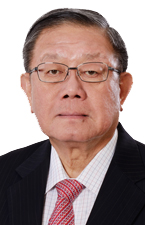 2021 continued to be a very challenging year with the rising number of Covid-19 cases and its variants throughout the world. Fortunately, the rollout of the National Immunisation Programme by our government with the setting up of numerous Vaccination Centres to vaccinate as many people as possible managed to reduce the spread of the virus and the severity of infections. As of end 2021, there were 2.76 million cases of Covid-19 reported in Malaysia of which 41,000 are still active cases and regrettably, 31,513 deaths from the pandemic.
Currently, close to 80% of the population in Malaysia or 25.6 million people have been fully vaccinated. With the greater immunity offered from the vaccines and natural infection as well as continual observance of the SOPs to curb the spread, there will be less hospitalization and deaths even though the virus continues to be present. With this, we hope that life will be back to as near-normal as possible and we can focus on recovery from not only the infection but of our economy and livelihoods.
With all the SOPs in place, our businesses were able to operate although at lower levels and gradually increasing to full capacity under the various phases of the National Recovery Plan. Our Mining Division started to export its tin ore in 2021 and with current international tin prices reaching heights of nearly USD40,000 a tonne, this augurs well for our mining operations and we hope to maintain the momentum.
During this period, our Property Division managed to sell some industrial land in Banting Industrial City in Banting, Selangor to foreign and local investors who are keen to set up their manufacturing facilities here. This will help to bring in Foreign Direct Investment (FDI) and spur domestic investment which will boost economic growth and create job opportunities for the local people. In the residential segment, the division will prepare for launches to meet the need for affordable housing especially in the Klang Valley.
Our Parkson retail chain had to rationalize its business operations to adapt to the new market situation and operating environment, and expanded its online presence. For Parkson Credit which provides credit financial services such as purchasing products via instalment payments, the unprecedented changes caused by the pandemic also represented opportunities to leverage on innovation and technology to review its business methods.
Our other businesses namely LIKOM in Melaka which provides mechanical and electronic manufacturing services, SECOM which offers electronic and physical security services, and POSIM which supplies building materials and automotive and industrial lubricants under the HI-REV brand are stable.
In this time of need, we were able to contribute in cash and in kind including hospital equipment, PPEs (protective wear) and related items such as face masks and hand sanitisers to various hospitals and charitable organisations to help Covid-19 patients and those affected by the pandemic. Our contribution included sending Hogan bread to homes and orphanages and to the frontliners on several occasions. We also contributed in cash and in kind to the flood victims of the massive floods that hit several states in December.
Our economy is expected to grow by 5.5% to 6% in 2022 according to Bank Negara's data though there is concern over inflation due to factors including global commodity price developments and risk from disruption in supply chains. Nevertheless, Malaysia's economic prospects already looked brighter in the fourth quarter of 2021 and should carry forward into 2022; with the rebound driven by increase in private consumption, economic activities and production to meet backlogs accumulated during the lockdowns and disruption in supply chains, and higher oil prices.
The implementation of the 8 aid and economic stimulus packages totaling RM530 billion to help the business community and the people's well-being the last 2 years will continue to have impact on our economic recovery, alongside the 12th Malaysia Plan from 2021 to 2025 that outlines the strategies and initiatives by the government in implementing development programmes and projects.
I wish to express my sincere thanks to all our staff for your continuing hard work and dedication in coping with the challenges faced throughout these difficult times. I also wish to thank our customers, business partners and associates, financiers, shareholders, directors and the government authorities for their continuing support and cooperation.
Most of all, I would like to express my deepest appreciation to our health authorities and all the frontliners for their huge sacrifice and tireless efforts to contain the pandemic and keep everyone safe these past 2 years.
I wish everyone well in the new year and take this opportunity to extend festive greetings to those celebrating the Lunar New Year.
Stay safe and stay well.
TAN SRI DATUK SERI UTAMA WILLIAM CHENG
GROUP EXECUTIVE CHAIRMAN