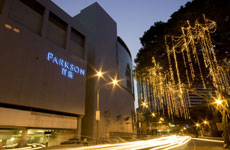 The Group's investment in the retailing industry is through its chain of about 80 Parkson department stores in Malaysia and China.
Parkson has grown steadily to become one the leading department store chains in Asia Pacific and is transforming into a lifestyle concept retail business, offering a wider range of products and services to suit customers' lifestyles, and create a more family-oriented experiences by complementing the traditional shopping element with entertainment and food and beverage (F&B).
Its China operations are listed on the Hong Kong Stock Exchange whilst its retail operations in South East Asia are listed on the Singapore Stock Exchange.
The Group also owns and manages 5 shopping malls in China and 1 in Laos.
To enhance its position as a market leader and trend setter with unique brand mix, the Group has acquired distributorship of international brands such as SPAO from South Korea, in synergy with Parkson's retail operations and the malls development. It also develops its own private labels under the Marq, Mave, 7DAYZ, and kor brandnames.
The Group holds the franchise for Hogan Bakery from Taiwan which is famous for its "Always Just Baked" products.
The Group is also involved in the trading of building materials, petroleum-based products and automotive components. It blends and distributes automotive and industrial lubricants under the Hi-Rev, T-Trax and torQue brands, and distributes various motor accessories under the Posim Group of Companies.
| | |
| --- | --- |
| Parkson Retail Group Limited | |
| | |
| --- | --- |
| Parkson Lao Sole Company Limited | |
| | |
| --- | --- |
| Lion Posim Berhad - Building Materials Division | |
| Lion Petroleum Products Sdn Bhd | visit site + |
| Parkson Corporation Sdn Bhd | visit site + |
| Parkson Branding Sdn Bhd | |
| | |
| --- | --- |
| Parkson Retail Asia Limited | |
| Retail Business | Number of Outlets | Floor Space (square metres) |
| --- | --- | --- |
| MALAYSIA | | |
| Department store | 36 | 435,000 |
| CHINA | | |
| Department store and supermarket | 42 | 1,600,000 |
| LAOS | | |
| Supermarket | 1 | 3,255 |