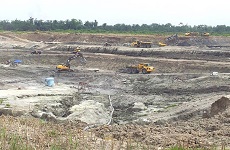 The Group has ventured into the mining and trading of mineral resources with its involvement in the prospecting and mining of tin in Malaysia.
It is developing a premier mining area of 1,913 acres in Kuala Langat, Selangor to produce tin, sand, amang and silica sand for supply to tin smelters, glass manufacturers, Industrialised Building Systems (IBS), amongst others.
The Group's investment in a fleet of excavators, dump trucks, wheel loaders, compactor, motor grader, bulldozer, backpusher and cutter suction dredges, will drive its goal to be the biggest tin mine in Malaysia and among the top 10 in the world.
Its strategic location with close proximity to the majority of its customers in the Klang Valley and to the ports offers competitive advantages and lower transportation costs.