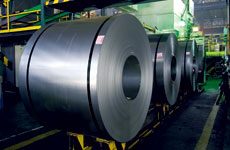 The Group's steel businesses are involved in iron and steel making, rolling of flat and long products and downstream manufacturing of various steel products such as office furniture, safes and industrial rackings.
It's investment in the manufacturing of flat products namely hot rolled and cold rolled coils uses state-of-the-art Direct Current Electric Arc Furnace - Compact Strip Production (EAF-CSP) process which incorporates Thin Slab Casting technology developed by SMS, Germany.
The manufacture of long products such as bars and wire rods is undertaken by Amsteel Mills Sdn Bhd which is equipped with modern facilities comprising Electric Arc Furnaces, Ladle Furnaces and 6-strand Continuous Casting Machines. These facilities are designed to produce high quality billets including special grade billets for rolling into specialty bars and higher grade wire rods for stringent applications.
Plans are underway for an integrated Blast Furnace project to produce liquid hot metal and pig iron a year, which will replace scrap as the feedstock for steel making by the Group's steel mills.
| | |
| --- | --- |
| Amsteel Mills Sdn Bhd | visit site + |
| Bright Steel Sdn Bhd | visit site + |
| Lion Steelworks Sdn Bhd | |
| Lion Steel Sdn Bhd | |
| Lion Tooling Sdn Bhd | |
| Product Category | Annual Capacity (million tonnes) |
| --- | --- |
| Steel Making | 5.6 |
| 3 X 160t Electric Arc Furnace | 4.60 |
| 1X 100t Electric Arc Furnace | 1.00 |
| Rolling | 6.2 |
| Hot Rolled Coils | 3.20 |
| Cold Rolled Coils | 1.40 |
| 2 Wire Rod mills | 0.8 |
| 3 Bar Mills | 0.8 |
| Iron Making | 3.37 |
| Blast Furnace (under implementation) | 3.37 |