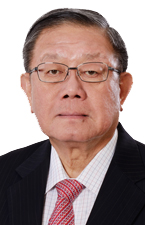 2017 saw our Parkson retail group celebrating its 30th anniversary. First established in 1987, Parkson now has about 120 stores in Malaysia, China, Vietnam, Indonesia and Myanmar with plans to open a new store each in Laos and Cambodia soon. We take pride in being a Malaysian brand that is recognized and trusted for quality products and excellent services, by our customers as can be seen in our 12 million Parkson Card members and 8 million Bonuslink Card members.
Our rapid growth over the last 30 years is due to our vision, innovations and customer-first philosophy in offering a wide range of the latest merchandise for the whole family. We have introduced more lifestyle products and services for our customers, such as fast fashion, beauty and fragrance, food and beverage, gourmet supermarket and kids playground.
Our Steel business improved with the Safeguard measure for steel bar and wire rod which enabled the local steel mills to compete with imports and increase their production in the long steel products sector. For the flat steel products sector, we are still discussing with the government and also with the bankers in order to restructure the hot rolled coil sector.
Over the last few years, we have been carrying out exploration work for Mining in Malaysia, Australia, Indonesia and Cambodia. We have started earthwork and cleared the top soil on our 2,000-acre piece of land in Banting, Selangor and will start commercial production in early 2018 beginning with sand mining followed by silica, amang and tin later. Its location in Banting is ideal, being near the port and airport.
Our Property division is continuing to expand and develop our townships with new launches and projects to provide more affordable housing to meet the need for such properties among the middle income earners.
Our credit financing business under Parkson Credit, offering financing for the purchase of motorcycles and consumer products is expanding with 500 dealers nationwide and increasing. The company has achieved ISO certification and Shariah compliance and been granted a Moneylending license and plans to widen its financing products to include cars and personal loans.
Our other businesses namely LIKOM providing mechanical and electronic manufacturing services here and in Mexico; POSIM trading in building materials and producing automotive and industrial lubricants under the HI-REV brand, and SECOM offering electronic and physical security services are all continuing to be profitable and seeking opportunities to expand their markets and products and services.
Malaysia's Gross Domestic Product (GDP) is projected to expand between 4% to 5% for 2017. The economy is expected to remain resilient in 2018, with the GDP forecasted to expand between 5.5% to 6%. This will be led by domestic demand with private sector expenditure continuing to be the main driver of growth fuelled by private investment and consumption particularly on food and beverage, communication, housing and utilities. Public sector expenditure on the other hand, is anticipated to decline in line with lower capital outlays by the public sector.
On the supply side, growth is expected to be broad-based, with all sectors registering positive growth. The country's external position is likely to remain favourable supported by global growth and trade. The external sector is expected to perform better with increase in the export of electrical and electronics components and commodities coupled with rising oil prices which will add to our national revenue.
We need to align our business strategies to face the coming challenges and seek opportunities in the new year. We have to adopt greater digital transformation by integrating technology into our business processes and workflow. We shall continue to embrace the values of corporate responsibility and sustainability in our operations and businesses.
Here, I wish to express my heartfelt thanks to all our staff for your continuing hard work to reduce costs and increase efficiency and productivity in order to enhance our competitiveness. I also wish to thank our customers, business partners and associates, shareholders, directors and the Government authorities for their continuing support and cooperation.
Thank you.
TAN SRI DATUK SERI UTAMA WILLIAM CHENG
GROUP EXECUTIVE CHAIRMAN