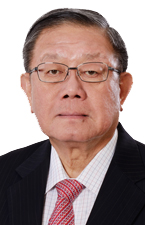 2020 was a totally unprecedented year with the outbreak of Covid-19 causing major disruptions to the entire world with severe impact to our health and the economy. Throughout the world, many have lost their lives to the virus and many lost their livelihood due to the devastating effect of the pandemic and lockdown on businesses. Almost all industries have been affected with some namely aviation, tourism and hospitality industries being among the hardest hit with the closed borders and ban on travelling.
The pandemic has forced companies to reconsider their strategies and sustainability in the midst of little or no sale and income, financial losses and business uncertainties until such time the vaccine for the virus is rolled out on a large scale sufficient for the world's population.
Like other companies, our business operations were affected by the imposition of the Movement Control Order (MCO) in Malaysia on 18 March 2020, and recovered under the Conditional MCO (CMCO) which replaced the MCO with more relaxed conditions in May 2020.
Our steel bars and wire rods business is gradually improving with increase in demand and steel prices. The recent measures by the Government to control the issuance of new manufacturing licences and extend the current import duties on steel products will help to boost the local steel market. We will be restarting our Hot Rolled Coil (HRC) plant in mid-2021, with plans to implement a Blast Furnace to be integrated with our flat and long steel products manufacturing facilities.
The mining licenses granted to our operations in Banting saw our production of silica sand and tin coming onstream. We are now the largest silica sand producer in Malaysia and will embark on value added projects including production of high grade silica sand and silica powder.
Our Parkson retail business was affected by the initial lockdown but recovered under the CMCO. It took a dive during the 2nd wave of the pandemic in October 2020, and has improved since and also launched Parkson Online in December to capitalize on the online shopping trend. The recent tie-up between Parkson Card and AirAsia BIG allows points exchange between these 2 well-known Malaysian brands, and offers more privileges to members. Since its establishment 6 years ago, our financial arm, Parkson Credit has grown to be one of the major players in the consumer financing industry with its growing base of customers and 2 regional offices in the north and south.
Our property division is continuing to expand in the Industrial Park segment with initiatives by our Banting Industrial Park to support and assist investors to set up their manufacturing operations here. In the residential segment, we will focus on providing affordable housing as well as condominium projects in the Klang Valley.
The other businesses under the Group namely LIKOM in Melaka which provides mechanical and electronic manufacturing services, SECOM which offers electronic and physical security services, and POSIM which supplies building materials and automotive and industrial lubricants under the Hi-REV brand are stable and profitable.
Malaysia's gross domestic product (GDP) is expected to grow between 6.5% and 7.5% in 2021, after a 4.5% contraction in 2020 owing to the pandemic. This strong rebound in GDP growth will be driven by the anticipated improvement in global growth and international trade. The participation of Malaysia and 14 other countries in the Regional Comprehensive Economic Partnership (RCEP) to promote regional economic and trade cooperation as announced on 15 November 2020 has created the world's largest Free Trade Zone (FTZ). Comprising the 10 Asean member states, and 5 of their free trade agreement partners namely Australia, China, Japan, New Zealand and South Korea, it will open up new markets and opportunities for our local businesses due to the huge population and economic size, and lowering of tariff and non-tariff barriers.
In addition, the impact of the 4 stimulus packages (Bantuan Prihatin Nasional) comprising fiscal and non-fiscal measures totalling RM305 billion or 21% of the nation's GDP, implemented by the Government is expected to have spillover effects and provide an additional boost to the economy in 2021.
It has been a year of great adjustment for everyone; individuals and corporate organizations including ours, adapting to the new normal. It has speeded up the push for digitalization and transition to the 4th Industrial Revolution (IR 4.0) which is changing how we live, work and communicate, but now at a faster pace. Working from home (WFH), online learning and shopping (with drone delivery in China and some other countries), contactless payment and Zoom meetings are shaping our lives at home and at the workplace.
I wish to express my sincere thanks to all our staff for your continuing hard work and dedication in coping with the current challenges. I also wish to thank our customers, business partners and associates, financiers, shareholders, directors and the government authorities for their continuing support and cooperation.
Above all, I would like to express my deepest appreciation to our health authorities and all the frontliners for their sacrifice and working tirelessly to contain the spread of the pandemic and to keep all of us safe.
Stay safe and stay well.
TAN SRI DATUK SERI UTAMA WILLIAM CHENG
GROUP EXECUTIVE CHAIRMAN