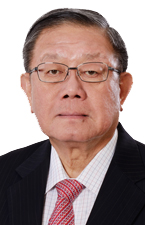 2016 had been a very challenging year for every business sector. The slow recovery and prevailing uncertainties in the world's major economies coupled with weak commodity and oil prices, volatility in financial markets, rising cost of living and depreciating ringgit continued to be a drag on the Malaysian economy and our corporate performances.
After struggling with the increase in production costs and the depressed steel market and prices worsened by the rampant import of steel products at dumping prices over the past several years, our steel plant manufacturing flat steel products namely hot rolled coils had to temporarily cease operation. Our long steel products operations producing steel bars and wire rods however showed some improvement.
The retail and property sectors were similarly affected by the weaker ringgit, higher cost of living due to price hikes, tighter credit and prevailing uncertainties which resulted in cautionary spending by consumers.
Malaysia's Gross Domestic Product (GDP) is projected to expand between 4% to 5% for 2017 compared with the forecasted 4% to 4.5% for 2016. Domestic demand and expenditure by the private sector will remain the key driver while public expenditure will increase moderately. The external sector is expected to perform better with increase in the export of electrical and electronics to cater to the global demand for semiconductors, and commodities especially to China which is Malaysia's second largest trading partner and accounts for 13% of our nation's total trade.
We need to align our business strategies for our steel, retail and property businesses to face the continuing challenges in the new year. We will continue to pursue discussions with the government on our steel operations as steel is a strategic industry. Our retail arm, Parkson, with about 130 stores in 5 countries currently, is transforming into a lifestyle concept retail business where we seek to offer a wider range of products and services to suit our customers' lifestyles, and create a more family-oriented experience by complementing the traditional shopping element with entertainment and food and beverage (F&B).
Our Branding division has introduced some new and distinctive brands in fashion including some leading Korean fast fashion brands, beauty, gifts and accessories, F&B, gourmet supermarket and edutainment. We are optimistic that the initiatives by the government to attract more tourists to our country will help to boost the local retail, F&B and entertainment sectors.
In the Property sector, we are concentrating on development of our townships while on the lookout for suitable land bank for further expansion. We will be coming out with projects to provide more affordable housing to cater to the growing demand for such properties among the middle income earners.
Here, I would like to express my sincere appreciation to all our staff for your continuing hard work and efforts to reduce costs and increase efficiency and productivity in order to enhance our competitiveness. I also wish to thank our customers, business partners and associates, shareholders, directors and the government authorities for their continuing support and cooperation. With everyone's untiring efforts, commitment and determination, I believe we can overcome the hardships and set out to achieve our goals for 2017.
I wish everyone well in the new year and take this opportunity to extend festive greetings to those celebrating the Lunar New Year.
Thank you.
TAN SRI DATUK SERI UTAMA WILLIAM CHENG
GROUP EXECUTIVE CHAIRMAN