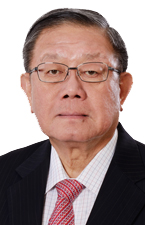 2018 was a very challenging year with the prevailing global and economic uncertainties. Coupled with the volatility of the financial markets, weak commodity and oil prices, and depreciating ringgit that affected the Malaysian economy, our Group continued to cope with the rising costs of doing business, intense competition and sluggish demand, amongst others.
Our Parkson retail arm posted improved performance contributed mainly by its operations in China, due to the recovery of the Chinese retail market and the steady growth in the country's Gross Domestic Product (GDP). This was also aided by the implementation of various transformation strategies by Parkson focusing on diversified retail formats and brand enhancement through offering more lifestyle products and services such as fast fashion, beauty and fragrance, food and beverage, and gourmet supermarket, as well as the optimization of operations and omni-channel marketing.
Our steel bar and wire rod business improved with the government policy which enabled the local steel mills to compete with imports on a level playing field in the long steel products sector. For the flat steel products sector, we are in discussion with the authorities and the bankers in order to restructure the hot rolled coil subsector.
For the past few years, we have been carrying out exploration work for mining and have started to undertake sand mining on our 2,000-acre piece of land in Banting, Selangor. This will be followed by silica and tin later.
Our property division is continuing to expand and develop our townships with new launches to provide more affordable housing and sustainable living to meet the need for such properties among the middle income earners.
Parkson Credit which offers financing for the purchase of motorcycles and consumer products is expanding with the opening of its regional offices in the North (Ipoh) and South (Johor Bahru) to widen its network coverage and better serve its customers.
Our other businesses namely LIKOM in Melaka which provides mechanical and electronic manufacturing services; POSIM which supplies building materials and automotive and industrial lubricants under the HI-REV brand, and SECOM which offers electronic and physical security services are all continuing to be profitable and seeking opportunities to expand their markets and products and services.
Malaysia's GDP is projected to expand by 4.9% in 2019 compared with 4.8% in 2018. This will be led by domestic demand with private sector expenditure continuing to be the key driver of growth mainly due to private investment in the manufacturing and services sectors, and consumption particularly on food and beverage, communication, housing and utilities. However, public sector expenditure is anticipated to reduce following initiatives by the government to review and re-prioritise expenditure as well as lower capital spending by the public sector.
Other sectors namely agriculture and mining are expected to rebound in 2019 following an upturn in the production of crude palm oil and liquefied natural gas. The construction sector is also anticipated to expand although at a moderate pace with the near completion of several mega projects and some overhang, especially in the non-residential subsector.
Major developments such as the possible ratification of the Comprehensive & Progressive Agreement for Trans-Pacific Partnership (CPTPP) by the government in 2019 will have impact on businesses with the country's commitment to openness and free trade. The US-China trade war is another significant issue that is affecting global trade with outcome that could present both opportunities and challenges.
The launch of the National Policy for Industry 4.0 by our Prime Minister in October 2018 stresses on the convergence of industry with the internet and the need for organisations to embrace new and digital technologies to reinvent and upgrade their business processes and workflow.
Hence, we must constantly review and align our business strategies to face all current and coming challenges and seize opportunities in the new year.
I wish to express my sincere thanks to all our staff for your continuing hard work to reduce costs and increase efficiency and productivity. I also wish to thank our customers, business partners and associates, shareholders, directors and the government authorities for their continuing support and cooperation.
Thank you.
TAN SRI DATUK SERI UTAMA WILLIAM CHENG
GROUP EXECUTIVE CHAIRMAN