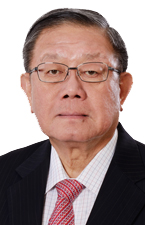 2022 was a year of continuing uncertainties and change in many areas; health and medical, economic, social and political aspects. The fight against Covid-19 and its variants continued though the standard operating procedures on mask-wearing were relaxed, and MySejahtera check-in and travel restrictions were lifted. This helped to reduce the pressure on our health and medical facilities, and ease our economic and social activities.
However, the disruptions to the world economy and supply chain caused by the pandemic and global lockdown continued to affect our local economy resulting in shortages, inflationary pressures, high cost of living and rising cost of doing business. The geopolitical tensions between Russia and Ukraine added to the disruptions including gas supply and raised energy costs.
Despite the many challenges, our businesses in the various sectors continued to operate although we divested our Hot Briquetted Iron plant in Labuan. Our Mining Division had started to export its tin ore in 2021 and silica sand in 2022, and we hope to maintain the momentum.
Our Property Division managed to sell some sizeable lots of industrial land in Banting Industrial City (BIC) in Banting, Selangor to foreign and local investors who are keen to set up their manufacturing facilities here. We are also promoting BIC in South Korea and had signed a Memorandum of Understanding (MoU) with Yangsan City to this effect. This will help to attract investment which will boost economic growth and create job opportunities for the local people. In the residential segment, the division had launches to meet the demand for housing especially in the Klang Valley.
We have also signed an MoU with Hyundai Glovis of South Korea to develop and upgrade the logistics business for our steel operations' sales and procurement, and expand into the retail and heavy industrial logistics business for other industries in Malaysia and Southeast Asia region.
Parkson opened in Pavilion Bukit Jalil on 21 January 2022; its second largest department store in Malaysia after Parkson Elite in Pavilion Kuala Lumpur. In China, Parkson opened its 4th Parkson Beauty which is a one-stop beauty store housing top-tier beauty brands, and conducted livestreaming sessions with beauty and other major brands offering special discounts and promotions to customers. Our department store chain is focusing on engagement with shoppers by working with key partners like banks and other merchants.
For Parkson Credit which provides credit financial services such as purchasing products via instalment payments, the new operating environment and increasingly cashless payment methods presented opportunities to leverage on innovation and technology to enhance its business systems.
Our other businesses namely SECOM which offers electronic and physical security services, POSIM which supplies building materials and automotive and industrial lubricants under the HI-REV brand and LIKOM in Melaka which provides mechanical and electronic manufacturing services, are stable and maintaining their operations.
Bank Negara reported that the local economy expanded by 9.3% in the first three quarters of 2022. It registered a stronger growth of 14.2% in the third quarter of 2022 (also contributed by the base effects from the negative growth in the third quarter of 2021) due to strong domestic demand with improvements in the labour market and income conditions, and recovery of inbound tourism. The services and manufacturing sectors continued to drive growth with exports fuelled by strong demand for E&E products.
Our economy is expected to expand by 4-5% in 2023, supported by firm domestic demand amid continued improvements in the labour market, realization of large infrastructure projects as well as higher tourist arrivals. However, Bank Negara notes that the country's growth remains vulnerable to a weaker-than-expected global growth, higher risk aversion in global financial markets, further escalation of geopolitical conflicts and re-emergence of supply chain disruptions.
The formation of the unity government in late November 2022 will provide the political stability needed to revive and accelerate our economic recovery. We hope that the revised Budget 2023 expected to be tabled on 24 February 2023 will be business-friendly and reduce the company tax rate to attract local and foreign investment that will provide higher tax revenue to the government in the long run.
I wish to express my sincere thanks to all staff for your continuing hard work and dedication in coping with the challenges faced throughout this period. I also wish to thank our customers, business partners and associates, financiers, shareholders, directors and the government authorities for their continuing support and cooperation.
I wish everyone well in the new year and take this opportunity to extend festive greetings to those celebrating the Lunar New Year.
TAN SRI DATUK SERI UTAMA WILLIAM CHENG
GROUP EXECUTIVE CHAIRMAN